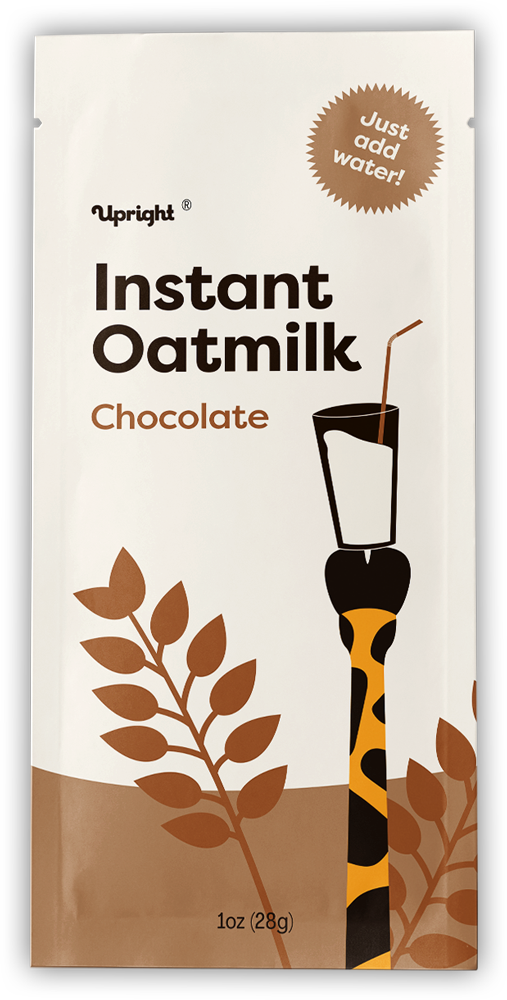 Oats are our main ingredient because they're a powerhouse for both health and sustainability.
Made With Love
Betty Tang
Founder
I started Upright because I'm personally lactose-intolerant and care about the environment. Plant-based milk alternatives exist, but many aren't great for our planet and most miss a key ingredient: protein.

With 2x or more the protein of other oatmilks, Upright is as nutritious as dairy – without the cow. Our instant powder is even more eco-friendly, and lets you have oatmilk whenever, wherever you want it!

As a female-founded and AAPI-owned business, we are proud to be a pending Certified B Corps company making a difference, one cup of oatmilk at a time.
Backed By
Connecticut Entrepreneurship Foundation - Indie Bio - SOSV - Republic - Tsai Center for Innovative Thinking - Yale Center for Business and the Environment - Yale School of Management - Yale Science and Engineering Association - Faisal Ajaji - Karen Albert - Ahmad Alfalah - Venkata Alladi - Pyone Aye - Melody Baillargeon - Pranav Balachander - Abhishek Bapna - John Barba - Samuel Batista - Harvey Bengan - Steve Bentler - Michael Berlfein - Vince Bernales - Vedant Bhaiya - Vikram Bhatla - Rahul Bhide - Pradeep Birkuri - Gina Block - Danielle Blum - Raymond Brown - Benjamin Bruneau - Suhas C - Megan Carney Reed - Michael Chan - Loon Cheah - Caryn Clopton - Lawrence Corff - Daniel Corkill - Michael Cornacchia - Sarah Crocker - Piera Damonte - Elizabeth Davidson - Lomond Davis - Raj Desai - Daniel Estrada - Benjamin Fowle - Ryan Freeburn - Brittany Galske - Chris Garrett - Dragoslav Grbovic - Alexander Guo - Shalaila Haas - Viktoria Habanova - Luke Hallowell - Kay Hebbourn - Larry Henrikson - Ian Hill - Clement Ho - Jason Howe - Nicole Huynh - Will Irving - Jeanelle James - Mario Johnson - Kiran Kadekoppa - Salih Kadric - Brian Kayler - Fred Keller - Nathan Kinch - George King - Brenda Kister - Ariel Koiman - Sinisa Kolarevic - David Kraft - Daniel Kriozere - Amy Kundrat - Claire Lafave - Kevin Lam - John Lamacchia - Jeff Landry - Christopher Larryant - Olivia Leung - Derek Lin - Felicity Lin - Ameena Makhdoomi - Amber Marcu - Connor Marshall - Melissa Mazzeo - Kelly Mcdonagh - Julie Meloni - Julio Mora - Rabiah Muhammad - Aatif Nawaz - Spencer Nelsen - Maria Neves - Patrick Newell - Paula Odabasi - Marc Ollhaeuser - Brent Packer - Kong Foo Pang - Amanda Parsons - Erin Perry - Kevin Pires - Emily Pollack - Krishna Ponna - Carrie Prime - Jyothish Rajan - Wira Ramanto - Kyle Ransom - Jehanne Reed - Dawn Riess - Errol Rivers - Matthew Rolnick - Dena Rose - Maya Rossi - Maciej Rumprecht - Elizabeth Russell - Takashi Sengoku - Janice Shade - Patrick Shao - Hong Shen - Sara Shoff - Ian Simmons - Michael Sobeck - Carlos Soto - Donald Stitz - Linda Szarkowski - Michael Szmyga - Caroline Tang - Steven Tang - Ivana Tay - Joel Thompson - Jennifer Trippett - Josh Volkening - Bob Wade - Trav Walkowski - Alyn Wesley - Jared Wicker - John Williams - Katherine Wong - Kenneth Wu - Julie Yang - Shanna Yonke - Talha Zubair - Maxime Dufour - Daniel Mccarter - Gabriel Cunje - Peter Lee - Elson Lim - Nic Decarvalho - Tom Malone - Billy Hayden - Ankush Boravke